About us
Are you wondering what Vietnamese meals would taste like, but doesn't have the time or funds to go to the actual country? Pho 66 is the answer to that. We serve Vietnamese cuisines and we are conveniently located at 66 Koornang Road, Carnegie VIC. We offer pickup or takeaway services on all days of the week. Our wide range of specialties include entrée, beef noodle soup, chicken noodle soup, vermicelli, rice dishes and drinks. Try our Prawn Spring Rolls, Rare Beef and Chicken. If you like rice dishes, try our Grilled Pork on Rice, Grilled Chicken on Rice, Combination Grilled Pork on Rice or Crispy Chicken on Rice. Go ahead, click on the Order Online button now, and have your food picked up at your most convenient time.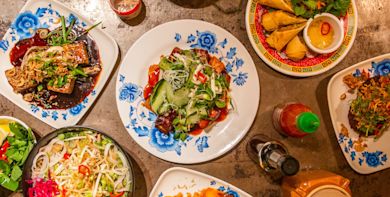 Reviews
Marnie
"Great, tasty and friendly delivery service"
27/01/2020
Georgina
"Very happy with good, not so much with Menulog- had voucher for free delivery but would not accept it yesterday- too many loopholes"
26/01/2020
Liam
"Special Rice Combination with BBQ pork- Delicious! Vermicelli spring rolls with BBQ pork-Awesome! Pork & Prawns salad-Yum Special fried rice-mmm mmm Beef salad-Yum yum"
26/01/2020
Sahara
"My favourite Pho restaurant. Generous proportions. Will order again."
26/01/2020